Some interesting comments have appeared on one of my NFP posts. They all address the effect on children of their parents using NFP – not necessarily the effect when the children are still children, but how the effect manifests itself when the children become adults themselves. [And if you have experiences to share along these lines, I'd love to hear from you. Comments are great, but emails are better, as I would appreciate having contact information for those willing to answer further questions. Contact me at drjayboyd@msn.com]
A few months ago, a guest post on this blog by Fr. William Gardner addressed the topic of talking to children about NFP. I introduced his contribution with this comment on a previous post (all emphases in this post are mine):
I was enjoying the talk, until the point where she shared her new insights with her husband and they discussed what to do. At that point, I expected her to say, "It was so wonderful; God opened his heart, and he agreed we should not contracept". Instead, she said (paraphrasing), "It was so wonderful; God opened his heart, and we agreed to learn how to practice NFP!" They had 3 children at that point (and still do), and appeared to be a financially stable, healthy middle class family. She kept going on about how horrible it would be if she got pregnant and how upset she would be, but how they were just going to "trust God" and abstain every month and live "according to God's plan" (!!)
… I hope none of their 3 children ever hears that CD…
…[T]he more that conception is controlled, the greater danger of misunderstanding the giftedness of human life. But periodic continence is employed precisely because of its aspect of control over conception, or the avoidance thereof.
Bearing in mind these considerations, an indelicate parent might say to a daughter or son: "Things were really rough, and then when we decided it was O.K. to have a baby, you came along!" A more thoughtful approach might be the following: "Things were really rough, and then you came along!" The latter statement, although not revealing all the details of the situation, tends to emphasize more clearly the giftedness of human life.
The widespread, indiscriminate promotion of natural birth regulation will unavoidably contribute to the contraceptive mentality, precisely because of its emphasis on human control over conception. On the contrary, the firm and forthright condemnation of artificial contraception, sterilization, abortion, and the homosexual lifestyle, without explicit reference to NFP will send a clear message that God's life-giving love is not to be opposed.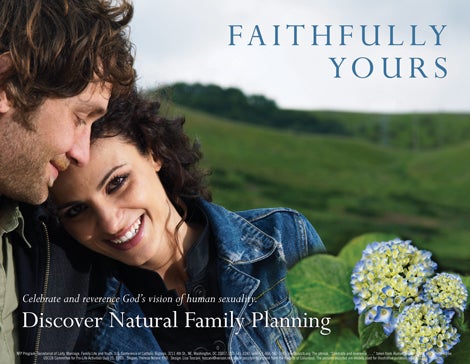 Think about it: t
he NFP sites never show bright, smiling children's faces – just beaming
couples who have eyes for no one else but themselves. What message does such a relationship impart to the children, as they mature and form their own ideas about marriage?
…What still needs to be investigated is the effect of NFP marriages on the children themselves. The speakers [on the show] pointed to an insidious inversion of the ends of marriage by the NFP cultists. What does it do to a child to be secondary to the unitive dimension of their parents' marriage?
That is a very good question! And I think it puts the debate over the "equality" of the procreative and "unitive" dimensions of marriage into a different perspective.
Here's another comment regarding the influence on the children's perception of marriage and family size:
I think the consequences of the NFP lifestyle are broader than most modern Catholics are willing to admit. …My parents were very keen on NFP and I attribute that fact to the fact that neither me nor my sister has ever seriously considered family life…. [W]hen you grow up in a family of 4 surrounded by similar-sized families (probably contracepting) it has a long term effect on you. We both suffer from materialism more than our parents.
This certainly rings true. Our perceptions of an ideal family size are shaped by our experiences; though of course, another mitigating factor would probably be one's perception of the effect of siblings on one's own well-being.
Here's one more comment along the same lines:
I was a well-loved, spoiled at times, only child who never thought her parents' NFP marriage was such a hot role model. Please God, I don't blame them for my certain spinsterhood but I've shown less interest in marriage than my peers who grew up in contracepting households that knew infidelity and divorce, and then repeated it in their own marriages. Talk about not learning from someone else's mistakes. We need a serious reassessment here.
Finally, here's one from the post written by Fr. Gardner:
I don't know how old I was at the time, but I no longer believed in Santa Claus and I doubt I was in high school yet. It was the middle of December and I went snooping through my parents room looking for presents. Without my sister seeing (I never told her) I found the NFP books. I cried for days. The sudden realization about why we were the only children hit hard.
Again, this is only anecdotal evidence; I know there are NFP-using couples whose adult children have married and who hope to have large families. Interestingly, though, the examples I can think of, based on my own knowledge, are NFP couples who have 8 or 9 children.

Another aspect of the "side-effects" of NFP use (or perhaps it would be better to say "over-use") is brought out in several comments that related NFP use to the "feminization" of the Church and the family. For instance:
I think both sides will agree that contraceptives objectify women for the benefit of misogynists who wish to use them as toys but has anyone ever considered that the NFP movement may be part of the feminization of the Church? We always hear that it is about her body, her cycles, and the perfection of her design. The implication is that men, who are ready to go at any time, are by nature flawed. And just try to ask if the phrase "marriage debt" is relevant today. Ask it on an NFP blog and you'll be called a Neanderthal before the end of the day.
An NFP marriage
necessarily puts the woman in charge, and children, particularly boys, who grow up in homes where mother wore the pants are often candidates for homosexuality. I've seen it in the NFP homes of my parish but more often than that I find young adults who show absolutely no interest in marriage. One I knew expressed himself so well: "I'd rather have the marriage of my grandparents than my parents." It's hard to make the case that the Church's view of marriage is different from what they see on TV. None of them know anyone who was ever turned down for an annulment, and NFP is constantly touted for its effectiveness…
Following the same line of thought, another commenter added:
We had to go through mandatory NFP training prior to marriage run by a husband and wife. I got to know them a little better when we were in their parish for two years.

The poor man, he never got to say anything and his wife never passed up an opportunity to talk about how NFP enriched their lives. He just stood there and nodded. I think he really enjoyed his time away from his wife and going to games with my husband. Neither their son nor their daughter ever expressed any interest in marriage.
I think that quite likely children perceive the double-speak that is involved with NFP use; kids are better at that than adults, and that's why it was a child who insisted that "the emperor has no clothes". Some of the commenters on my posts pointed out the fact that NFP is actually quite difficult to justify in terms of being different from contraception in the long run. For instance:
When I took my first NFP course, it wasn't by choice and I was a recent convert… I
knew very little about moral philosophy and theology at the time… I was open to fuzzy-touchy-feely-thinking and reasoning from non sequiturs. It wouldn't be until I started reading good material, that my thoughts began to change…
I came to see that Catholic theology was a very precise Science…I struggled to square NFP arguments into the pattern of thinking I was acquiring and couldn't. Sure, I could see how contraception was intrinsically evil and NFP was neutral, but the arguments in favor of using it seemed like they were designed to appeal more toward hippies than theologians, Catholic theologians.
No one could tell me why this kind of marriage was better. No one could explain how it improved communications. What did couples talk about 100yrs ago and why did they stay together?
Another commenter added some thought about Theology of the Body:
Christopher West has suggested we could never understand human sexuality until JP2's Theology of the Body because Scholasticism is inadequate. Piffle! TOB is little more than an excuse to use the Faith to talk about sex. It has even been used to justify sodomy.

In addition to having fewer kids, I have found the NFP parents are always trying to get away from them by taking vacations alone. By contrast, the so-called "providentialists" can't seem to get enough of them.
And finally, there was this wry observation:
I listened to this podcast well before the controversy got going over the article in Christian Order. It was a debate between an NFP advocate and a traditionalist. Both had six kids and at the end of the debate, the NFP-er said: "No, we don't use it. We can't even plan our lunches."
That would be an amusing note on which to conclude this post, sort of along the lines of
Harry Crocker's line: "Use NFP; it doesn't work!"
But the bottom line is this: NFP was born of the concept of "responsible parenthood"; "responsible parenthood" seems to have been born of the fear of overpopulation, and it's a phrase that, for all practical purposes, is used to mean "limit the number of children you have". And that basic concept is at the heart and history of Planned Parenthood.
The last commenter I mentioned had also added this note:
Renew America
author Randy Engel has also exposed the link between Planned Parenthood and the early promotion of NFP by Church leaders in the early sixties. I highly recommend it for getting your head around the motives.
If you have experiences and thoughts to share about how parents' NFP use (or over-use) can affect their children's perceptions of marriage and family, please comment, or email me. I would like to have contact information if possible, so I can follow up with questions. Contact me at drjayboyd@msn.com